AI-powered
Sound Design Workflow.
Import Video.
Extract Events.
Let AI analyze your video and automatically identify potential sync points.
It may notice things you haven't considered.
Sonic Alchemist will automatically trim, fade, timestamp and produce a foundational sketch for you to build upon.
Imperfect, but inspiring.
Drag and Drop
Into Your Timeline.
Drag and drop it into your timeline and take it from there.
Keep the bits you like.
Combine sketches in your DAW.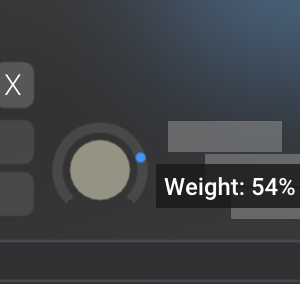 The Weight Knob allows you to focus on heavy or light sounds.
Booms and heavy rumbles on the the far left, tiny insects and rustling leaves on the far right. And everything in between.
No need for keywords.
Breed new sounds through transmutation.
In Alloy Mode, Sonic Alchemist will construct sounds using a smart algorithm that borrows DNA from other sounds.
Invent new sonic materials.
Sound Effects Library
Included.
Sonic Alchemist comes with Fundamentals, our useful high quality Materials Library.
Recorded by Saro Sahihi of SoundBits, it covers multiple categories such as foley, whooshes, mechanical devices, designed sounds and impacts.
Import your own sound effects libraries.
Sonic Alchemist will "listen" to your audio and categorize your sounds based on weight, gravity, contrast and intensity.
Good old metadata too.
Inspired by modular synthesizers, the multi-effects engine can be controlled with only three sliders.
Pitch shift. 
Apply subtle or extreme tape-style pitch
 effects.
Frequency shift. Explore resonant, sci-fi, otherworldly tones. From low frequency flutters to high frequency screeches turn mundane into extraordinary. 
Convolution Reverb. Place your sounds in a box, an iron container or a spacious environment.
Reverse effects. Adjust reverse probability to inject some backwards elements into your sequence.
Import markers.
From Pro Tools,
or Nuendo.
For precise synchronization, import markers from your Pro Tools Session Info text file or Nuendo CSV Marker Track.
Cover important events.
Type in a short scene description to narrow down your palette.
Or enter some keywords.
Yes, it's there if you really, really need it.
Breed new sounds in
Alloy Mode.
Switch to Alloy Mode and breed unique new sounds through transmutation. Sonic Alchemist will borrow DNA from sounds it finds elsewhere in your library and generate new alloy audio materials. Bengal tiger + fireworks + soda can foley = ?… Why not!
High quality sound effects library Fundamentals is included. Recorded by Saro Sahihi of SoundBits.
Import your own sound effects libraries. WAV up to 192 kHz, 8 channel interleaved are supported.
Smart scanner will 'listen' to your audio and categorize it based on weight, gravity, intensity and contrast, as well as Broadcast WAV metadata.
High quality sample rate conversion is performed to match your project. Supported sample rates: 44.1 kHz, 48kHz, 88.2 kHz, 96 kHz, 192 kHz.
Smart Auto-leveler ensures your audio never clips and dynamically responds to video event intensity.
Channel count is retained. Even if your sound library features mixed channel counts – mono, stereo, LCR etc.
Manage libraries directly from the UI. Right click on a menu entry to rename or delete.
Generate Sketch. It will automatically match, trim, fade, process
Pure / Alloy Modes
Spit out long heavy sounds or short light sounds. Or vice versa.
Import markers from Pro Tools and Nuendo
Drag and Drop into your DAW.
Clips will create timestamped individual audio files.
Groups will group non-overlapping sounds and assemble a multitrack arrangement.
Embrace accidental synchronicity in Blank Slate Mode.
Text Prompt. Enter scene description or keywords to narrow your search.
Density slider
Length slider
Canvas visualises your events field.
Timeline preview – visualises multitrack arrangement
Smart audio management: Auto trim sound clips will find the most interesting part of your sound and trim it to a desired duration and apply smooth fades.
Group non-overlapping sounds assembles your sounds into a multitrack arrangement. Stay organized and keep your channel counts low.
Set project start timecode to make sure your clips are timestamped to match your video.
Housekeeping. Smart disk management. Keep recent projects, automatically delete older ones. Or keep everything. Your choice.
Clip List. Click to preview generated sounds. The polyphonic playback engine allows you to preview multiple sounds simultaneously. Try out combinations directly in the UI.
Standalone. Offline. Perpetual license. iLok – activate from USB key, cloud or host computer.
For sound designers.
From sound designer.
Sonic Alchemist was developed from the ground up by Vytis Puronas, supervising sound editor and re-recording mixer from Vilnius, Lithuania with two decades in the film industry.
Whether you cut sound effects or picture – you will very likely relate to this concept.
Pro Tools, Nuendo, Reaper, Premiere, Davinci Resolve and most other popular video editing software and DAWs are supported.
Video
Supported QuickTime (MOV/MP4/M4V) codecs:
H.264

H.265

Apple ProRes 4444 XQ

Apple ProRes 4444

Apple ProRes 422

Apple ProRes 422 HQ

Apple ProRes 422 LT

Apple ProRes 422 Proxy

Recommended resolution: 1080p or 720p.

* Avid DNxHD and DNxHR codecs are not currently supported.
Audio
WAV files of all sample rates up to 192 kHz and all channel configurations up to 8 channel interleaved are supported.
The following output sample rates are supported:
44.1 kHz
48 kHz (Default)
88 kHz
96 kHz
192 kHz
Sonic Alchemist outputs timestamped Broadcast WAV files according to the EBU – TECH 3285 Specification of the Broadcast Wave Format (BWF).
The following metadata entries are created:
Description
Originator
OriginationDate
OriginationTime
TimeReference